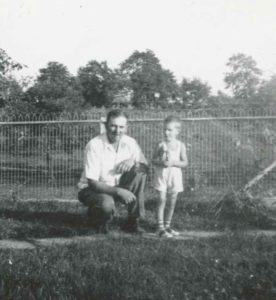 Nathan W. Drager (owner of Drager Farms, LLC) is a 4th generation farmer. His grandfather, Harold (pictured at left with Nathan's father Dennis), instilled the love of farming in Nathan from a very young age as they worked together on the family dairy farm. Once he graduated high school in 1995, Nathan tried his hand at carpentry for a short while, but the farm called him back later that year. By 2005, Nathan was raising his own cattle.
After seeing the movie "GMO OMG" and learning about the health and environmental benefits of pastured livestock, he decided to start raising his own herd of 100% grass-fed beef in 2014. Nathan likes to go 'beyond organic', raising his livestock and poultry humanely and sustainably, close to the land and good for all.
Nathan is proud to be the very first Pennsylvania farmer to be dually Certified Grassfed by AGW and Animal Welfare Approved (AWA). The AWA program has the most rigorous standards for farm animal welfare and environmental sustainability currently in use by any U.S. farm program. AWA standards have been developed to maximize practicable, high-welfare farm management with the environment in mind. His cows have also been Certified Grassfed by A Greener World (AGW),  the only grassfed label claim in the U.S. and Canada that requires farms to provide their animals with a 100% grass and forage diet.
Our cattle never eat genetically modified feed (GMOs), nor do they receive hormones. We do not administer antibiotics unless absolutely necessary and we believe that they are allowed to live their lives closer to the way nature intended.
We are completely committed to sustainable practices and the humane care of our livestock throughout their life cycle. (For more information about the standards we must uphold to maintain our certifications, please click on the links above to AWA and AGW.)
---
Countless studies are proving that grass-fed beef is better for you and for the environment. Make Drager Farms grass-fed beef a part of your healthy lifestyle.
Interested in the history of the land we live on? Check it out here.