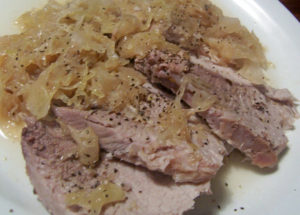 An old time Pennsylvania Dutch recipe straight from Nathan's mom that's delicious any time of the year!
RELATED PRODUCTS: Picnic Roast, Pork Loin
Preheat oven to 350° F. Rinse pork and place in large roasting pan. Add about 2 cups of water to the bottom of the pan to prevent burning.

Cover roasting pan and put in oven for 2 hours. Remove from oven and add the sauerkraut.

Cover and put back in oven for another hour.

Remove from oven, season as desired, and enjoy!
Serve with creamy mashed potatoes for a classic feast.