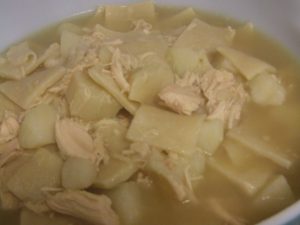 Traditionally, the Pennsylvania Dutch chicken pot pie recipe is actually less of a pie and more of a soup or stew. This recipe is most like what our grandparents used to make.
It's a little time-consuming to prepare since you have to boil off the chicken and make your own noodles. But in the end, it's some serious comfort food. If you're running short on time (or just feeling lazy) you can substitute cooked bow tie pasta for the homemade noodles, like my grandmother used to do.
RELATED PRODUCTS: whole chicken
Chicken Pot Pie
Ingredients
3.5

lb

chicken

2

c

all purpose flour

1

tbsp

cold vegetable shortening

1

tsp

salt

1

lg

egg, beaten lightly

2

carrots, thinly sliced

1

rib

celery, thinly sliced

1

onion, minced

1

lb

boiling potatoes

1/3

c

fresh parsley, finely chopped
Instructions
Season the cavity of the chicken with salt and pepper, put the chicken in a kettle just large enough to hold it, and add 14 cups water. Bring the water to a boil, simmer the chicken, covered, skimming the froth, for 45 minutes or less, or until it is tender, and transfer it to a large bowl. When the chicken is cool enough to handle, discard the skin and bones, cut the meat into bite-size pieces, and chill it, covered. Measure the stock remaining in the kettle and boil it until it is reduced to about 10 cups. Strain the stock through a sieve into a bowl, let it cool, uncovered, and chill it, covered, overnight.

In a bowl blend together the flour, the shortening, and the salt. In a small bowl whisk together the egg and 2/3 cup cold water, add the mixture until it forms a soft but not sticky dough. Halve the dough, keeping half of it under an inverted bowl, roll out the other half on a heavily floured surface into a 12- by 10-inch rectangle, and cut it with a pastry wheel into 2-inch squares. Transfer the squares to a lightly floured baking sheet and roll and cut out the remaining dough in the same manner.

Discard the fat from the stock, return the stock to the kettle, and bring it to a boil with the chicken, the carrots, the celery, the onion, the potatoes, peeled and sliced thin, and salt and pepper to taste. Add the noodle squares, a few at a time, stirring gently, simmer the mixture, covered, for 20 to 30 minutes, or until the vegetables and noodles are tender, and stir in the parsley.