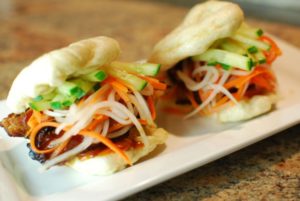 A little something different. Somewhat time consuming but perfect for a lazy Sunday afternoon in the kitchen.
RELATED PRODUCTS: Pork Jowl
Crispy Pork Jowl Buns
Ingredients
1

onion

1

can

chipotle chiles

4

cloves

garlic

2

tbsp

molasses

1

c

orange juice

1

c

vinegar

1

pork jowl

honey
Steamed Bun Dough
1

pkg

dried yeast

1

c

lukewarm water

4.5

c

flour

1/4

c

sugar

2

tbsp

Crisco or vegetable oil

1/2

c

boiling water

2

tbsp

sesame oil
Instructions
For the Sandwich Filling
Combine onion, a full can of chipotles in adobo, 4 cloves garlic, 2 tablespoons molasses, a cup of orange juice, and a cup of white vinegar in the food processor make up the braising liquid. Roast at 250 for about 7 hours. Remove from the oven and place in the fridge for about an hour to cool and harden a bit. This will prevent it from falling apart when you slice it.

When you remove it from the fridge, the fat in the pan should also be hardened. Remove the fat and place the remaining braising liquid in the food processor again with some honey. It will become smooth and slightly sticky, perfect for a glaze.

Slice the jowl thick against the grain. Remove a little of the fat, but keep most of it because at this point it is meltingly tender and very tasty. Sear the pieces of jowl on all sides in some hot oil and at the last minute, add your sauce to the pan to glaze the pieces of jowl. Remove from heat.
For the Buns
Dissolve yeast in lukewarm water. Add 1 cup of flour. Mix thoroughly. Cover with cloth. Let rise 1 hour, until bubbles appear.

Dissolve sugar and vegetable oil in 1/2 cup boiling water. Stir well. Cool until lukewarm. Pour into yeast mixture. Add 3 1/2 cups flour.

Knead dough on lightly floured board until smooth. Put into extra large, greased bowl in a warm place. Cover with damp cloth. Let rise until double in bulk, about 2 hours.

Divide into 2 portions. Remove first portion and knead 2 minutes. Repeat with second. Roll each into roll 12 inches long and 2 inches wide. Cut into 12 pieces (24 total).

Flatten each piece with palm of hand. Roll with rolling pin into 3 inch circles.

Brush with sesame seed oil. Indent middle of circle with chopstick. Fold circle in half so that it becomes a half moon. Crimp edges tightly with fork.

Place each roll on separate square piece of foil on steamer tray. Cover tray with towel. Let buns rise to double in bulk, about 30 minutes. Remove towel.

Steam, tightly covered, over briskly boiling water for 10 minutes. May be prepared in advance. May be frozen. Thaw out in plastic bag and re-steam 10 minutes.
Notes
Top the steamed buns with the pork jowl filling, cucumber sticks, pickled carrot and shredded daikon radish.