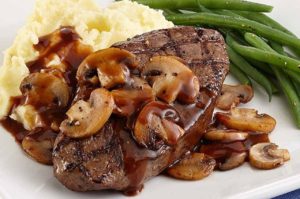 This rich mushroom and red wine sauce is so delicious you'll want to lick your plate clean. Serve with a side of mashed potatoes and steamed green beans. Are you hungry yet?
RELATED PRODUCTS: Sirloin Steak
Sirloin Steak in Marsala Sauce
Ingredients
3

tbsp

unsalted butter

10

oz

white mushrooms, thinly sliced

2

oz

sliced prosciutto, cut into 2-by-1/4inch strips

(not paper thin)

3

tbsp

onion, finely chopped

1

tbsp

all purpose flour

3/4

c

dry Marsala wine

3/4

c

reduced sodium chicken broth

2

sirloin steaks

fresh parsley, finely chopped
Instructions
Melt 1 tablespoon of butter in a large skillet over medium-high heat. Add mushrooms and cook, stirring occasionally, until browned, about 5 minutes. Add the prosciutto and onion and cook, stirring often, until the onion softens, about 2 minutes. Sprinkle with the flour and stir well. Stir in the Marsala and broth, and bring to a boil. Cook for about 5 minutes, stirring often, until reduced to approximately 1 cup. Remove from heat. Add the remaining butter, one tablespoon at a time, and stir until incorporated into the sauce. Season with salt and pepper.

Preheat the grill to medium-high heat. Tenderize and season steaks on both sides with salt and pepper. Sear the meat on both sides, and grill to about 128° F internal temperature for medium-rare. Remove meat from grill and let rest.

When you're ready to serve, make sure the sauce is hot and spoon equal amounts of it on each piece of meat. Sprinkle with parsley to finish it off.