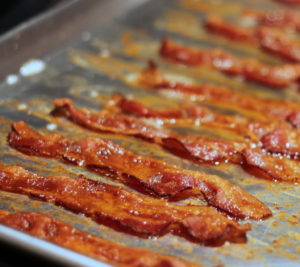 Looking for a new way to make bacon? Try this oven roasted method. It's less messy and less work too.
RELATED PRODUCTS: Uncured Pork Country Bacon, Uncured Pork Smoked Bacon
Easy Baked Bacon
Instructions
Preheat oven to 425° F. Line a cookie sheet with aluminum foil.

Lay the bacon strips side by side on foil-lined cookie sheet and bake for 10-14 minutes until the bacon is desired crispiness. (Check the bacon every minute after 10 minutes to make sure it doesn't burn!)

Dry on paper towels and serve.